دۆزینەوەی دەریایەک لە ژێر چینی سێهەمی زەویدا پێغەمبەر (صلی الله عليه وسلم)فإن تحت البحر نارا وتحت النار
2211 جار ئه‌م بابه‌ته‌ خوێندراوه‌ته‌وه‌
دۆزینەوەی دەریایەک لە ژێر چینی سێهەمی زەویدا  پێغەمبەر (صلی الله عليه وسلم) فإن تحت البحر نارا وتحت النار
و: تارا علي
پێغەمبەری ئازیز(

صلی الله عليه وسلم

) چواردە سەدە لەمەوبەر هەواڵی بونی ئاگری پێداوین  لەژێر دەریادا، و هەروەها بونی دەریاش لەژێرئاگردا، ئاخۆ كێ‌ ئەم دۆزینەوە نۆێیەی پێ‌ ڕاگەیاند؟
گۆڤاری (

دەیلی مەیل

)، یەكێك لە دۆزینەوە سەیر و سەمەرەكانی بڵاوكردەوە كە بەم شێوەیە ئاماژەی پێداوە:
لە قوڵایی

600-400

كیلۆمەتر لە ژێر ڕوی زەوی دا، دەریایەكی مەزن دۆزراوەتەوە! ئەمەش ئەوە دەگەیەنێت كە شوێنی دەریاكە كەوتۆتە ژێرچینی سێهەمی چینەكانی زەوی یەوە. بڕی ئەو ئاوەی لەم دەریایەدا بەدی كراوە بە سێ هێندەی بڕی ئاوی سەر زەوی مەزەندە كراوە، زاناكان ئەم دۆزینەوەیان لە مانگی ئازار و مارسی 

2014 

دا خستە ڕوو بۆ جیهان..
دەرەنجام زەوی دوو دەریای گرتۆتە خۆ، یەكێكیان بەسەر ڕوەكەیەوە دیار و بەرچاوە هەروەك پێی ئاشناین، ئەوی دیش لە قوڵایی دایە و لە ژێر چینی سێهەمی ڕوی زەوی دا شاردراوەتەوە، هەر لە ژێر دەریای سەرڕوی زەوی دا، چینێكی تەنك هەیە و پاشان چینی دوهەم دێت و دواتر لە چینی سێهەمدا كە چینێكی ئاگرینە، گركانەكان و شلە ئاگرینە تواوەكانی  لێوە دەر دەچێت و هەڵ دەقوڵێت، لە ژێر ئەم چینەی دوایشدا دەریایەك هەیە كە تازە زاناكان دۆزیویانەتەوە.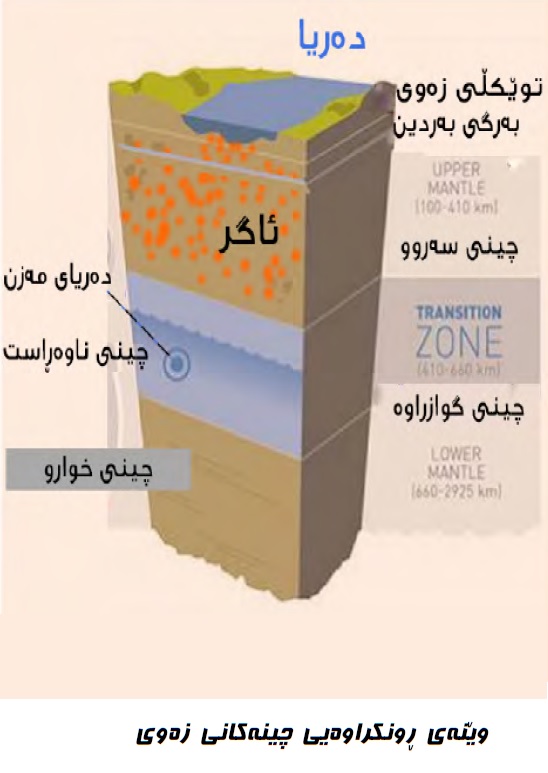 بەم پێیە چینەكانی زەوی دەبنە حەوت چین

: 1 – توێكڵی زەوی. 2 – بەرگی بەردین. 3 – شریتی سەرو.  4 – شریتی ناوەڕاست كە ئەو دەریایەی تێدایە كە تازە دۆزراوەتەوە كە چینێكی گوازراوەیە0 5 – شریتی خواروو.  6- ناوكی دەرەكیی.  7 – ناوكی ناوەكیی، دەرەنجام دیمەنەكە ڕونبوەتەوە و ژمارەی چینەكانی زەوی بونەتە حەوت چین.
ئەم ڕاستیەش  خوای گەورە لە قورئانی پیرۆزدا ئاماژەی پێداوە: 
اللَّهُ الَّذِي 

خَلَقَ

 

سَبْعَ

 

سَمَاوَاتٍ

 وَمِنَ 

الْأَرْضِ

 

مِثْلَهُنَّ

 

يَتَنَزَّلُ

 

الْأَمْرُ

 بَيْنَهُنَّ 

لِتَعْلَمُوا

 أَنَّ 

اللَّهَ

 عَلَىٰ كُلِّ 

شَيْءٍ

 

قَدِيرٌ

وَأَنَّ 

اللَّهَ

 قَدْ 

أَحَاطَ

 بِكُلِّ 

شَيْءٍ

 عِلْمًا ﴿١٢﴾ الطلاق
كەواتە ڕاستیە زانستیە دڵنیاكەرەوەكە  دەڵێت: لە ژێردەریاكاندا ئاگر و شلەی ئاگرینی تواوە هەیە كە لە چینی دوهەمی زەویەوە هەڵدەقوڵێت و لەژێر ئەم چینە گڕگرتوەشدا دەریایەكی زۆر مەزن هەیە، لە كۆتایی دا ئەم ڕیزبەندیەمان بۆ دروست دەبێت :

دەریا – ئاگر – دەریا

.
 ئەی پێغەمبەری مەزن
(

صلی الله عليه وسلم

) 
و خۆشەویستەمان، چی دەڵێت؟ چۆن باسی ئەو بابەتەی كردوە كە زاناكان لەسەدەی بیست و یەكدا دۆزیویانەتەوە؟!
پیغەمبەری ئازیزفەرمویەتی
(

صلی الله عليه وسلم

)
:
 (

فإن تحت البحر نارا وتحت النار

) ئەبو داود گێڕاویەتیەوە
ئەم فەرمودە پیرۆزە باس لە و ئاگرە دەكات كە لە ژێر دەریادا هەیە و زاناكان چەند ساڵێك لەمەو بەر ئەم ڕاستیەیان سەلماند، وە ئەمڕۆش بونی ئاویان لە ژێر ئەو ئاگرەدا سەلماند! پرسیارەكە لێرەدا ئەوەیە: ئایا ئەم دۆزینەوەیە گەواهیدان نیە لەسەر ڕاستگۆیی (

محمد

)ی خۆشەویستمان(

صل الله عليه وسلم

)
؟


گۆی زەوی لە ڕوی دەرەوەی دا لە تۆپێكی شینی جوان دەچێت، بەڵام لەناخی دا چەندەها چینی ئاگرین و شلەی ئاگرینی شاردۆتەوە. لەكاتێكدا ڕوكاری دەرەوەی گۆی زەوی دەریا و هەور و هێمنی باڵی بەسەردا كێشاوە، چینی ژێر توێكڵی تەنكی زەوی چەند چینێكی گرسەندو بەدی دەكرێت، لەگەڵ ئەم چینە ئاگرینانەشدا دەریایەكی مەزنتر و گەورەتر هەیە.
سه‌رچاوه‌:
http://www.kaheel7.com/ar/index.php/2010-02-02-20-13-13/1681-2014-06-21-15-58-17
سه‌رچاوه‌ی نوسه‌ر :
http://www.dailymail.co.uk/sciencetech/article-2579584/The-vast-reservoir-hidden-Earths-crust-holds-water-ALL-oceans.html
2211 جار ئه‌م بابه‌ته‌ خوێندراوه‌ته‌وه‌
Related posts
Leave a Comment
You must be logged in to post a comment.